Product Description
(1)Power system:
The well-chosen chassis from world renowned brand features strong power output and stable performance. The original German STIEBEL transfer case features long service life, high power output, high efficiency, and stable and reliable operations.
(2)Hydraulic system:
The pumping hydraulic system adopts double-pump double-circuit open hydraulic system and adopts the German Rexroth oil pumps. The main cylinder and swing cylinder are driven by two pumps separately. The swing cylinder features quick and powerful motions. The pumping hydraulic system adopts the electronically controlled reversing mode, featuring simple and clear system structure and convenient malfunction repairs. The hydraulically controlled reversing mode is optional.
(3)Pumping system:
The maximum capacity of the hopper is 600L and the inner walls of hopper adopt arc-shaped design to eliminate dead angle for material deposit and minimize the residual material. The S-valves adopt highly wear-resistant wearing plate and cutting ring to ensure long service life and sufficiently reduce the operation cost of the user. The mixing blades of the mixing mechanism feature reasonable design to improve the concrete suction efficiency. The hydraulic motor adopts direct drive mode, featuring simple transmission structure and convenient repair. The mixing mechanism is capable of automatic reversing in event of material blockage and then automatic resumption of forward rotation.
(4)Boom and outriggers:
Through the finite element calculation and modal analysis, simulation of multi-body dynamics, and repeated testing and backed by the precise data, the optimized design in terms of weight, strength, stiffness, and stability is achieved to guarantee the reasonable design and outstanding performance of the structural parts. All structural parts for boom and outriggers are made of WELDOX high strength steel plates from Swedish SSAB, featuring high strength, light weight, and predominant fatigue resistance. The boom adopts the RZ-shaped folding mode, featuring wide placement scope and flexible operations. The boom balance valves adopt RZ products with overload cushion protection function to effectively prevent the possibility of overload failure of hydraulic system and the damage of structure. The outriggers are of the traditional backward-swinging type, featuring quick extension and simple and reliable operations.
(5)Central lubrication system:
The S-shaped valve and concrete delivery cylinder of the pump truck adopt central lubrication mode so that the hydraulically controlled follow-up grease pump guarantees the lubrication effect and features low grease consumption. All lubrication points of the multi-plate progressive grease distributor are fitted with blockage indicator to ease the maintenance and checking. In event of blockage in any oil line, the other oil lines can still function normally.
(6)Efficient cooling system
The efficient electronically controlled cooling system guarantees low temperature rise of hydraulic oil.
(7)Operation and control system:
The operation modes of the pump truck include: 1. Electric panel operation; 2. Wireless remote operation; 3. Manual emergency operation.
Performance Parameters
Model
Unit
HJC5420THB-56
HJC5421THB-56
Vehicle specification
Length × width × height
mm
13810×2500×4000
13850X2500X4000
Gross weight of machine
Kg
43000
42400
Boom parameters
Folding type


6-section RZ-shaped
Rotation angle for boom sections
°
90/180/180/240/210/100
Vertical height of boom
m
56
Horizontal length of boom
m
51
Vertical height of boom
m
37
Minimum unfolding height of boom
m
15.2
Rotation angle of turntable


±360°
Outrigger parameters
Extending/retracting mode of outriggers


X-shaped outriggers
Maximum extending span of front outriggers
m
9.475
Maximum extending span of rear outriggers
m
12.85
Pumping system parameters
Theoretical concrete displacement
High pressure
m3/h
120
Low pressure
m3/h
170
Theoretical pumping pressure
High pressure
Mpa
12
Low pressure
Mpa
8.3
Bore diameter of delivery cylinder
mm
260
Travel of delivery cylinder
mm
2200
Hopper capacity
L
800
System oil pressure
Mpa
32
Other
Remote controller


German HBC
Cooling mode of hydraulic oil


Air cooling
Chassis
Chassis model


Benz ACTROS4141/8×4
Isuzu CYH52Y
Engine power


300kw/1800rpm
294kw/1800rpm
Emission standard


Euro-IV
Company Profile
---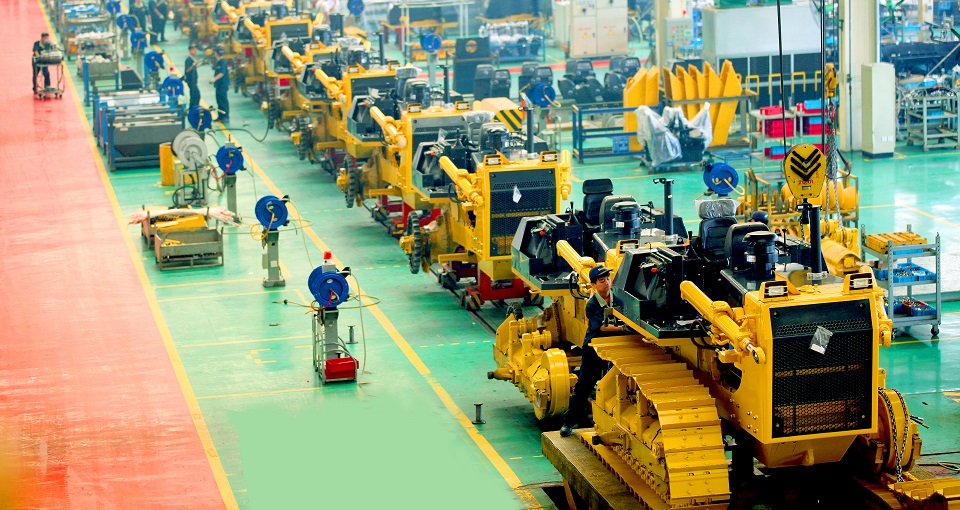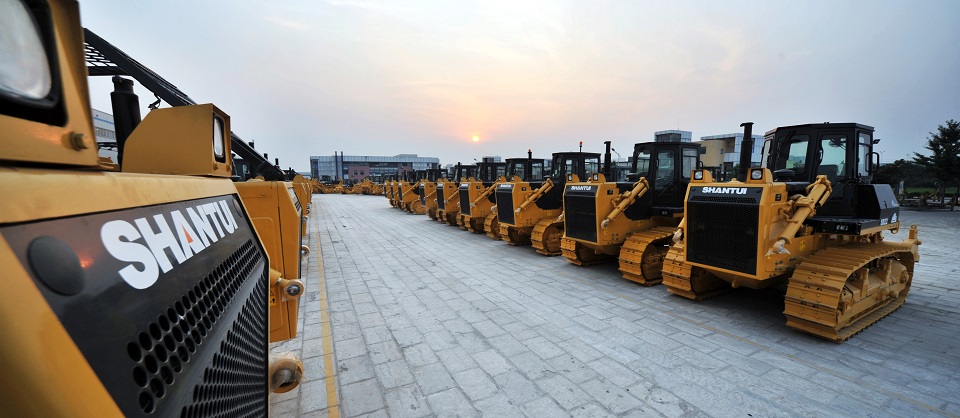 Shantui Construction Machinery Co., Ltd. (Shantui) was founded in 1980. Shantui is one of the top 50 manufacturers of construction equipment in the world, and one of China`s top 500 manufacturers. Shantui`s name is synonymous with bulldozers in China, but today the company features the entire gamut of construction machinery,from Bulldozers and Trimming dozers,to Pipe Layers,Motor Graders,Wheel Loaders,Road Rollers,Landfill Compactors,RoadMilling Machine,Asphalt Paver Machine,Truck-Mounted Concrete Pumps,Line Pumps,Truck Mixers,and Trailer Pumps. It is a leading supplier of undercarriages, track roller, top roller, sprocket, idler, transmissions and metal structural components. At present the company has more than 140 individual model numbers in its catalogue. On January 1, 1997, Shantui listed on the Shenzhen Stock Exchange (stock number: 000680), and was one of the original companies included in the launch of the CSI 300 Index. In 2009, Shantui joined Shandong Heavy Industry Group as a subsidiary to further realize its growth goals. In 2011, Shantui exceeded US$2.3 billion in sales, and became the largest brand name bulldozer maker and seller in the world.

Shantui`s main production bases cover more than 2,000,000 square meters, The Shantui International Industrial Park and the Shantui Heavy Industry Technology Park are located in Shandong Province, Shantui had established branch offices in the United Arab Emirates, South Africa, Russia, Brazil and Hong Kong. The company`s production capability, manufacturing standards and product quality lead the way domestically and strive to meet or exceed international standards. The Shantui Technology Research Center and Post-Doctoral Research Lab is recognized as National-Level Research and Development Center, and are the foundation of Shantui`s innovation and internationalization programs. Its annual production capacity exceeds 15,000 units of bulldozers, 7,000 units of road machineries, 5,000 units of concrete machineries, 180,000 track assemblies, 160,000 units of torque converters, 50,000 transmissions and 1,400,000 units of construction equipment rollers. Shantui`s established marketing system and excellent sales and service network span the globe, its products are sold all over China and overseas in more than 150 countries and territories.

Shantui, Ltd. is one of the top 100 firms in China`s construction machinery industry and is a national first-class Safety Quality Standardized enterprise. A leader in Shandong Province, it has been named a [Shandong Province High-tech Enterprise," a [Shandong Province Manufacturing Industry Exemplary IT Enterprise" and a [Shandong Province Model of Corporate Culture." Shantui has also been honored with the National May Day Labor Award. is [FAMOUS TRADEMARK of China", and is a noted [Mechanical and Electrical Chambers of Commerce Recommended Export Brand". Shantui has been awarded ISO14001 and ISO9001 certificates, and its major products have passed CE and EPA certification, and others have passed TUV certification.

In the coming 5-10 years, Shantui will continue to develop its line of earth-moving machinery, concrete machinery, compacting machinery and road machinery, as well as its parts business. Ultimately, Shantui seeks to become a leading, competitive and sustainable multinational company offering a highly diversified line of construction machinery products.