Product Description
Technical Features
● Weichai WP4G90E235 turbocharged engine features strong power, high efficiency and energy-saving, and high torque reserve coefficient.
● The drive system adopts power shift transmission, featuring flexible and convenient operations and high working efficiency.
● The large gilled tube radiator is adopted to effectively guarantee the normal running under high environmental temperature and ease the cleaning. The radiator with 4-point (up and down) shock-absorbing installation features high stability.
● The multi-stage filtration system is adopted to effectively guarantee the oil cleanliness and reduce the malfunction rate of hydraulic system.
● The full box-type main frame welds the front balance beam, working device mounting points, and lifting cylinder rear support points onto the main frame to achieve a better stiffness and durability and improve the motion consistency between left and right cylinders. The rear balance beam brackets adopt the installation structure to ease the replacement.

● The chassis system features high durability and stability and good traction performance.
● The cab, operating devices, and instrument assembly features high comfort and convenience.
● The trimming blade capable of large-angle forward and backward tilting adopts symmetrically arc-shaped double-faced structure to adapt to double-faced operations. The internally arranged vertical plate weldments guarantee the strength for all trimming blade parts to collect more handled material at one time and adapt to various complicated working environments.
● The rear guard is welded from high strength plates to effectively prevent the damage of drive system arising from the collision with ship compartments during operations and guarantee more durable reliability and service life of the machine.
Technical Parameters
| | | | |
| --- | --- | --- | --- |
| Overall dimensions(mm) | 4660×2200×2645 4660×2400×2645 | Operating weight (kg) | 7950 8250 |
| Engine model | WEICHAI WP4G90E235 | Net power/rated speed (kW/rpm) | 59/2350 |
| Track plate width (mm) | 400 510 | Ground pressure(Mpa) | 0.045 0.037 |
| Blade width/height (mm) | 2200/750 2400/750 | | |
Company Profile
---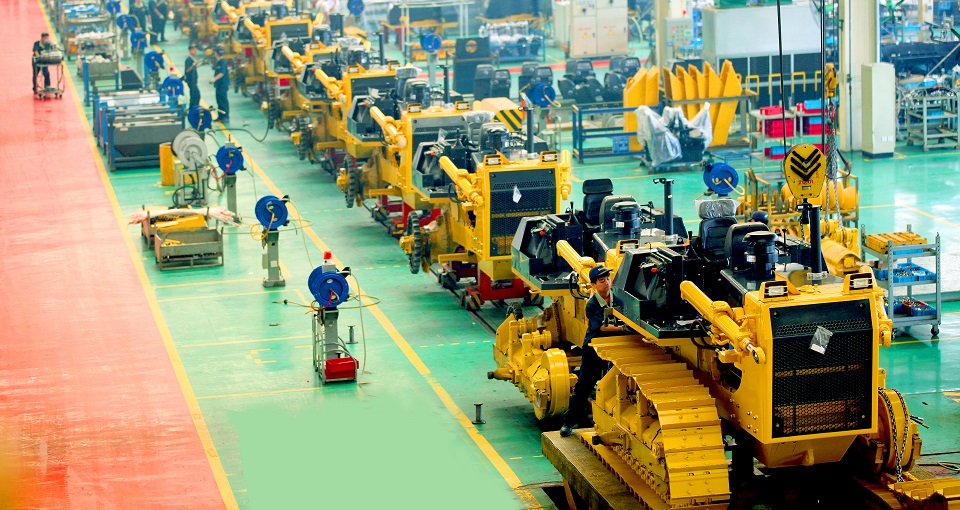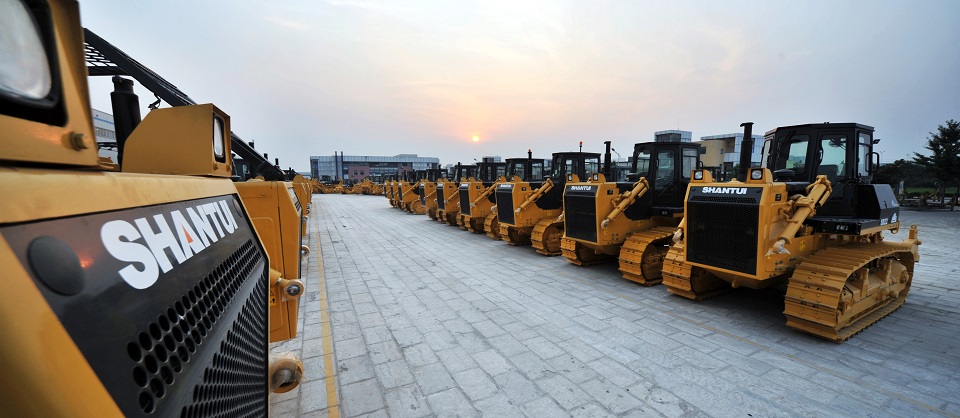 Shantui Construction Machinery Co., Ltd. (Shantui) was founded in 1980. Shantui is one of the top 50 manufacturers of construction equipment in the world, and one of China`s top 500 manufacturers. Shantui`s name is synonymous with bulldozers in China, but today the company features the entire gamut of construction machinery,from Bulldozers and Trimming dozers,to Pipe Layers,Motor Graders,Wheel Loaders,Road Rollers,Landfill Compactors,RoadMilling Machine,Asphalt Paver Machine,Truck-Mounted Concrete Pumps,Line Pumps,Truck Mixers,and Trailer Pumps. It is a leading supplier of undercarriages, track roller, top roller, sprocket, idler, transmissions and metal structural components. At present the company has more than 140 individual model numbers in its catalogue. On January 1, 1997, Shantui listed on the Shenzhen Stock Exchange (stock number: 000680), and was one of the original companies included in the launch of the CSI 300 Index. In 2009, Shantui joined Shandong Heavy Industry Group as a subsidiary to further realize its growth goals. In 2011, Shantui exceeded US$2.3 billion in sales, and became the largest brand name bulldozer maker and seller in the world.

Shantui`s main production bases cover more than 2,000,000 square meters, The Shantui International Industrial Park and the Shantui Heavy Industry Technology Park are located in Shandong Province, Shantui had established branch offices in the United Arab Emirates, South Africa, Russia, Brazil and Hong Kong. The company`s production capability, manufacturing standards and product quality lead the way domestically and strive to meet or exceed international standards. The Shantui Technology Research Center and Post-Doctoral Research Lab is recognized as National-Level Research and Development Center, and are the foundation of Shantui`s innovation and internationalization programs. Its annual production capacity exceeds 15,000 units of bulldozers, 7,000 units of road machineries, 5,000 units of concrete machineries, 180,000 track assemblies, 160,000 units of torque converters, 50,000 transmissions and 1,400,000 units of construction equipment rollers. Shantui`s established marketing system and excellent sales and service network span the globe, its products are sold all over China and overseas in more than 150 countries and territories.

Shantui, Ltd. is one of the top 100 firms in China`s construction machinery industry and is a national first-class Safety Quality Standardized enterprise. A leader in Shandong Province, it has been named a [Shandong Province High-tech Enterprise," a [Shandong Province Manufacturing Industry Exemplary IT Enterprise" and a [Shandong Province Model of Corporate Culture." Shantui has also been honored with the National May Day Labor Award. is [FAMOUS TRADEMARK of China", and is a noted [Mechanical and Electrical Chambers of Commerce Recommended Export Brand". Shantui has been awarded ISO14001 and ISO9001 certificates, and its major products have passed CE and EPA certification, and others have passed TUV certification.

In the coming 5-10 years, Shantui will continue to develop its line of earth-moving machinery, concrete machinery, compacting machinery and road machinery, as well as its parts business. Ultimately, Shantui seeks to become a leading, competitive and sustainable multinational company offering a highly diversified line of construction machinery products.